With the arrival of the Ottobrata Romana the hands on activities within nature and history will begin at Hortus Urbis, the educational garden with solely ancient Roman plants realized as a project on public space and biodiversity by Zappata Romana and the Appia Antica Park.
Save the date Sunday October 5th 2014, at 11 am, for the first outdoor Sunday appointment dedicated to children, at the ex Cartiera Latina on via Appia Antica 42/50 with "ELLIOTT LA MITOVELÓ", by Ersilio M. association, a bike/library for listening to stories in the garden.
Hortus Urbis is a place especially for kids. Not only hosting gardening but also creative workshops, storytelling, cooking lessons, recycling, history, nature such as painting with dyeing plants, water color, honey and bees and much more for the next season. The workshops will be held with the precious help of: Associazione Ersilio M., Azienda agricola Mamma Lù, Eu's, Semi di Carta, Servizio Educazione del Parco dell'Appia Antica, Slow Food Roma, studioArturo.
Starting from October grownup's activities too: every last Saturday of the month volunteer gardening open to all, and other appointments such as watercolor lessons every Saturday morning by Gioia Marchegiani, lessons on how to make your own seeds and lessons on how to recognize edible wild plants present in the Appia Antica Park by Giovanni Salerno; gardening and horticultural lessons by Enrico Lazzari.
Hortus Urbis is an edible garden along the Almone river next to the via Appia Antica, the ancient Regina Viarum. The project is innovative not because it has recovered an abandoned area with the help of volunteer gardeners but also for its educational focus on ancient Roman plants. The garden has 16 square-shaped flowerbeds, stretching out for about 50 Roman feet and occupying a surface of about 225 square meters. About 80 varieties of plants have been selected among those quoted by Columella, Pliny the Elder, Cato, Virgil and the recent discoveries of Pompei's excavations. Volunteer, children and families that come visit take care of the garden. Come and join us, the garden is open to all.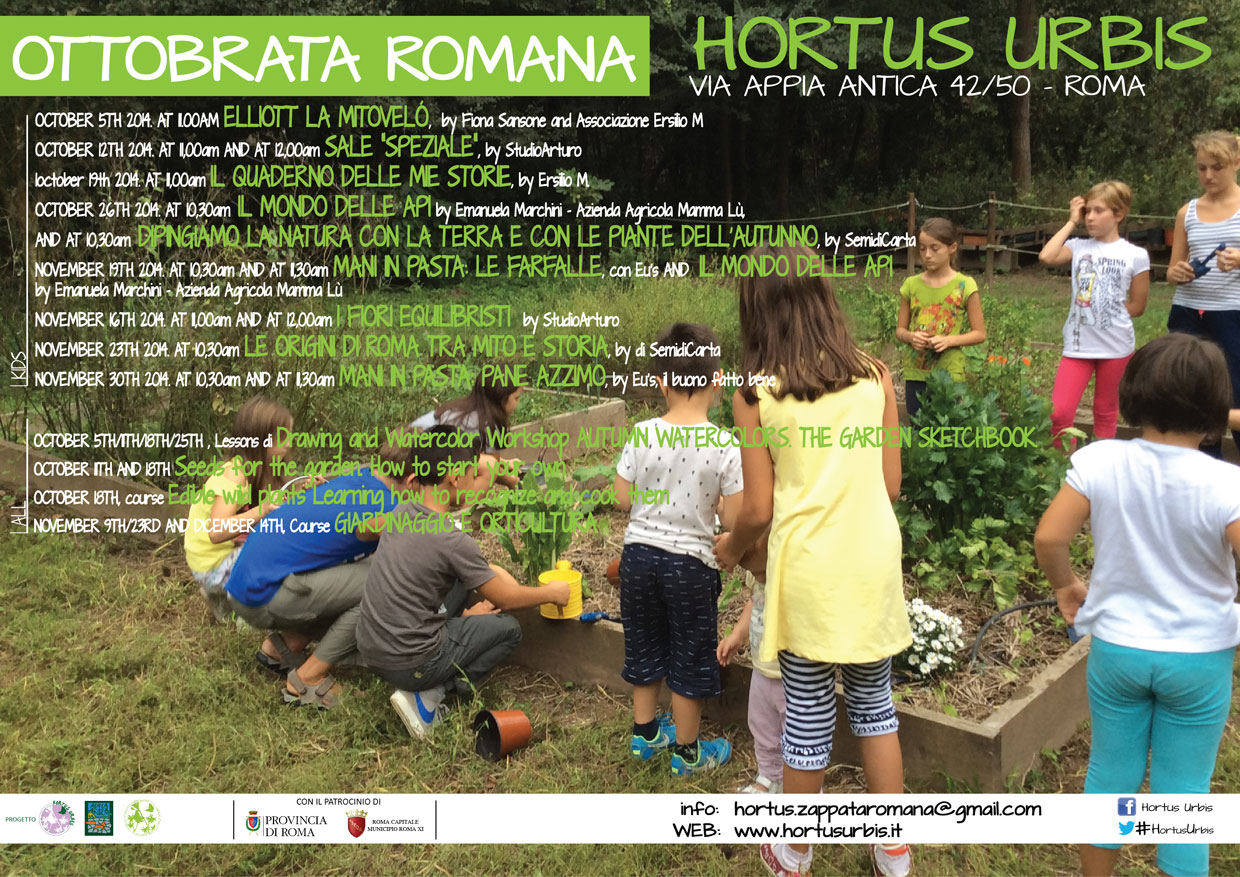 Contact:
Email: hortus.zappataromana@gmail.com
Web: www.hortusurbis.it
Facebook: https://www.facebook.com/HortusUrbis
Twitter: @zappataromana - #HortusUrbis
How to reach us
Hortus Urbis at the former paper mill " Cartiera Latina", via Appia Antica, 42 /50 (near the fountain), Rome
Bike: Cristoforo Colombo bike route and Circonvallazione Ardeatina.
Bus: 118 and 218 on the Appia Antica (Domine Quo Vadis stop) or 30express, 714 and 715 (Cristoforo Colombo/Bavastro stop or Cristoforo Colombo/Circonvallazione Ostiense stop) and then short walk along the Circonvallazione Ardeatina in the Scott Park.
Car: parking at via Carlo Conti Rossini, Largo Gavaligi, via Omboni, via Scott and surroundings and then short walk along the Circonvallazione Ardeatina in the Scott Park.