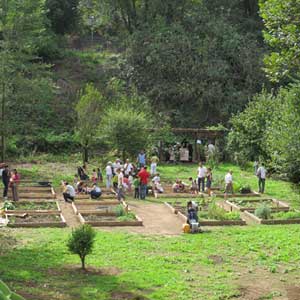 Hortus Urbis is a project on public space and on biodiversity initiated by Zappata Romana and the Appia Antica Park.
The project started on March 24th 2012 in Rome.
Hortus Urbis is a garden in a recovered abandoned area of the Appia Antica park where solely ancient Roman plants are cultivated.
The garden has 16 square-shaped flowerbeds, stretching out for about 50 Roman feet and occupying a surface of about 225 square meters.
Added with the help of volunteer gardeners: a compost bin, an adobe oven, an insect house, a pergola and an irrigation plant. To be soon realized: an earthworm culture area, a seedbed area, an orchard with ancient fruit trees.