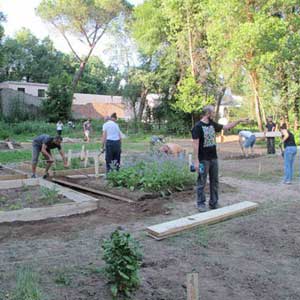 Ready to get your hands dirty?
Whether you want to learn more about plants and gardening or just want to get your hands into the soil, Hortus Urbis offers you the opportunity.  On Volunteer Orientation days at the Hortus Urbis you can stay and start working right away or come back another time. Please bring a water bottle and dress for the weather. If you wish to know more contact us by email.
Courses and workshops 
How to start a shared garden
Gardening and horticulture: from theory to practice
Workshop on How to make an irrigation plant
Workshop watercolor in the garden
Workshop on basket making
Workshop on Pruning, techniques and methods for trees and shrubs
Workshop on Bulbs, rhizomes, tubers
Workshop on Le piante aromatiche e officinali
Workshop on Roses
Workshop on Compost
Workshop on Bricolage
Workshop on Vertical Green
Workshop on Flower Decorations
Workshop on Wild flowers
Please email: hortus.zappataromana@gmail.com
Thank you, to the numerous Hortus Urbis volunteers who help accomplish our work. We couldn't do it without your support!