Join the Ottobrata Romana at Hortus Urbis, the educational edible garden in the heart of the beautiful Appia Antica Park. It is also the occasion for the launch of the new Autumn season open air activities for kids every Sunday morning.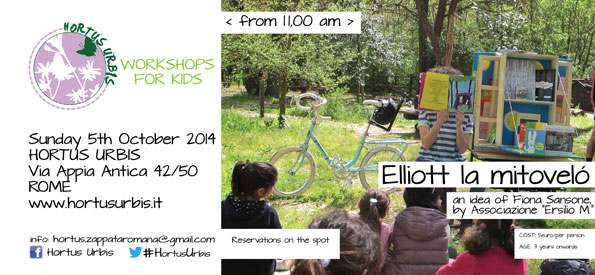 KIDS
At 11.00 – ELLIOTT LA MITOVELÓ | Workshop for Kids, an idea of Fiona Sansone, by Associazione Ersilio M.
Elliott la MitoVeló , the movable bike library, will be back! Readings and book loans for kids.
age 3 years onwards
Fee: 5euro/per person
Reservations on site
ALL
At 10.00 – Drawing and Watercolor Workshop | AUTUMN WATERCOLORS. THE GARDEN SKETCHBOOK by Gioia Marchegiani, painter and illustrator
Four appointments during the month of October beginning from Sunday October 5th, further lessons will follow on Saturdays: 11th, 18th, e 25thalways from 10 am until to 12 am. Observe, draw and paint to learn more about plants, the harmony of their unique shapes and their autumn colors. An opportunity to escape the everyday routine to find peace surrounded by nature. But also the occasion to learn or improve the watercolor technique. INFO HERE. For any advice on painting materials and further information contact Gioia: 3383027794 - gioia@marchegiani.com
In case of rain the activities will be post-poned
Picnic area on site
Contact:
Email: hortus.zappataromana@gmail.com
Web: www.hortusurbis.it
Facebook: https://www.facebook.com/HortusUrbis
Twitter: @zappataromana - #HortusUrbis
How to reach us
Hortus Urbis at the former paper mill " Cartiera Latina", via Appia Antica, 42 /50 (near the fountain), Rome
Bike: Cristoforo Colombo bike route and Circonvallazione Ardeatina.
Bus: 118 and 218 on the Appia Antica (Domine Quo Vadis stop) or 30express, 714 and 715 (Cristoforo Colombo/Bavastro stop or Cristoforo Colombo/Circonvallazione Ostiense stop) and then short walk along the Circonvallazione Ardeatina in the Scott Park.
Car: parking at via Carlo Conti Rossini, Largo Gavaligi, via Omboni, via Scott and surroundings and then short walk along the Circonvallazione Ardeatina in the Scott Park.