Roseto comunale di Roma Capitale, Parco Regionale dell'Appia Antica and Zappata Romana are pleased to present:
Skill sharing: open lessons on roses
ROSA,ROSAE: rose gardening

II edition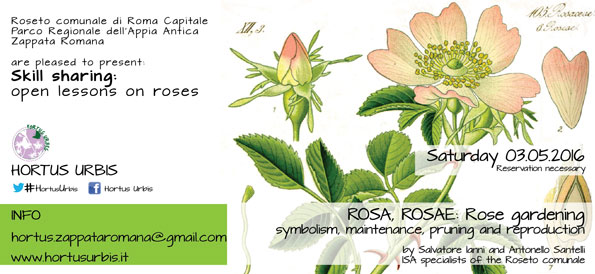 The event aims at sharing the knowledge and skills of our city's excellences making them accessible to all so to increase environmental awareness.
Saturday March 5th, a morning on the rose's world, meaning, history, species and peculiarities by the ISA specialists Salvatore Ianni and Antonello Santelli of the Roseto comunale, internationally known for the renowed Premio Roma.
The appointment is at the Cartiera Latina conference room near Hortus Urbis, via Appia Antica 42/50.
The appointment on roses will offer the opportunity for advice or questions you might like to share with the Roseto Comunale experts.
Free admission for a restricted number, reserve by March 4th 6 pm.
PROGRAM
Saturday March 5th 2016
at 10am – 11am / Salvatore Ianni, "The rose through its symbols and paintings. Human reflexes"
at 11.15am – 1pm / Antonello Santelli, practical experience pruning the garden's roses
FOR INFORMATION: hortus.zappataromana@gmail.com – www.hortusurbis.it
Contact:
Email: hortus.zappataromana@gmail.com
Web: www.hortusurbis.it
Facebook: https://www.facebook.com/HortusUrbis
Twitter: @zappataromana - #HortusUrbis
How to reach us
Hortus Urbis at the former paper mill " Cartiera Latina", via Appia Antica, 42 /50 (near the fountain), Rome
Bike: Cristoforo Colombo bike route and Circonvallazione Ardeatina.
Bus: 118 and 218 on the Appia Antica (Domine Quo Vadis stop) or 30express, 714 and 715 (Cristoforo Colombo/Bavastro stop or Cristoforo Colombo/Circonvallazione Ostiense stop) and then short walk along the Circonvallazione Ardeatina in the Scott Park.
Car: parking at via Carlo Conti Rossini, Largo Gavaligi, via Omboni, via Scott and surroundings and then short walk along the Circonvallazione Ardeatina in the Scott Park.