COURSE
Giardinaggio e orticultura: dalla teoria alla pratica
V Edition – 2015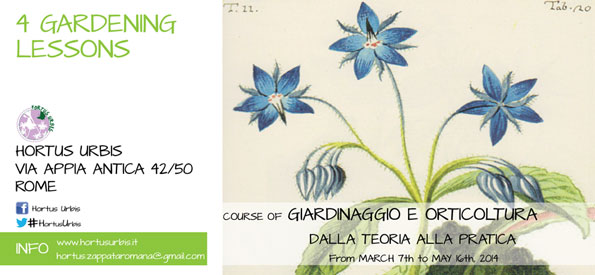 This course aims to provide theoretical and practical knowledge on horticultural and ornamental cultivation techniques for who wants to start a garden.
Lesson's calendar and subjects:
Lesson 1) introduction + soil + flowerbed arrangement. Saturday, MARCH 7th from 10.00am to 1.00pm
Lesson 2) intercropping, sowing in pot and soil, Saturday, MARCH 14th from 10.00am to 1.00pm
Lesson 3) transplanting, plant's maintenance I. Saturday, 11th APRIL from 10.00am to 1.00pm
Lesson 4) plant's maintenance II, diseases and remedies for parasites. Saturday, 16th MAY from 10.00am to 1.00pm
The lessons are held by Enrico Lazzari agronomist, friend of the Hortus Urbis, expert in natural horticulture and ornamental gardening
Address: Hortus Urbis, via Appia Antica 42/50, Rome
Fee: Suggested donation of 30.00 € for person + € 5.00 Carta Amici del Parco dell'Appia Antica
Additional information:
Babysitting available during lesson hours, on request
Outdoor parking
Indoor lectures followed by outdoor hands-on gardening in the Hortus Urbis
In case of rain the activities will be post-poned
FOR INFORMATION OR TO SIGN UP:  hortus.zappataromana@gmail.com – www.hortusurbis.it
Contact:
Email: hortus.zappataromana@gmail.com
Web: www.hortusurbis.it
Facebook: https://www.facebook.com/HortusUrbis
Twitter: @zappataromana - #HortusUrbis
How to reach us
Hortus Urbis at the former paper mill " Cartiera Latina", via Appia Antica, 42 /50 (near the fountain), Rome
Bike: Cristoforo Colombo bike route and Circonvallazione Ardeatina.
Bus: 118 and 218 on the Appia Antica (Domine Quo Vadis stop) or 30express, 714 and 715 (Cristoforo Colombo/Bavastro stop or Cristoforo Colombo/Circonvallazione Ostiense stop) and then short walk along the Circonvallazione Ardeatina in the Scott Park.
Car: parking at via Carlo Conti Rossini, Largo Gavaligi, via Omboni, via Scott and surroundings and then short walk along the Circonvallazione Ardeatina in the Scott Park