Sunday, October 26th, at 10.30 am we are pleased to invite you to the Autumn outdoor activities of the Hortus Urbis, the garden in the Appia Antica Park with solely ancient Roman plants.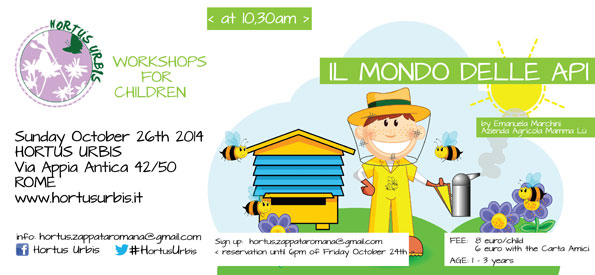 At 10.30 am – "IL MONDO DELLE API" | Workshop kids 1-3, by Emanuela Marchini – Azienda Agricola Mamma Lù
A pedagogical – educational path aimed at approaching little children to the fascinating world of bees and honey production.
The workshop's objective is to present in a playful way such a suggestive animal world and inspire perceptive, manipulative and descriptive abilities towards nature.
1-3 years, accompanied by parents
Fee: 8 euro per child, 6 euro with the Carta amici del Parco
Registration: 15 minutes before the beginning of the workshop
Time: about 50 minutes
Reservations until 6 pm of Friday, October 24th, at hortus.zappataromana@gmail.com
WARNING: DAILY SAVING TIME (DST)
In case of rain the activities will be post-poned
For information or brochure: www.hortusurbis.it
Picnic area on site
Contact:
Email: hortus.zappataromana@gmail.com
Web: www.hortusurbis.it
Facebook: https://www.facebook.com/HortusUrbis
Twitter: @zappataromana - #HortusUrbis
How to reach us
Hortus Urbis at the former paper mill " Cartiera Latina", via Appia Antica, 42 /50 (near the fountain), Rome
Bike: Cristoforo Colombo bike route and Circonvallazione Ardeatina.
Bus: 118 and 218 on the Appia Antica (Domine Quo Vadis stop) or 30express, 714 and 715 (Cristoforo Colombo/Bavastro stop or Cristoforo Colombo/Circonvallazione Ostiense stop) and then short walk along the Circonvallazione Ardeatina in the Scott Park.
Car: parking at via Carlo Conti Rossini, Largo Gavaligi, via Omboni, via Scott and surroundings and then short walk along the Circonvallazione Ardeatina in the Scott Park